Community Policy Senior Manager, Safety
Airbnb was born in 2007 when two Hosts welcomed three guests to their San Francisco home, and has since grown to over 4 million Hosts who have welcomed more than 1 billion guest arrivals in almost every country across the globe. Every day, Hosts offer unique stays and experiences that make it possible for guests to connect with communities in a more authentic way.
The Community You Will Join: 
In Community Policy, our mission is to create and evolve principled policies that create the rules of the road for Guests and Hosts across Airbnb. This involves solving some of the most complex Trust & Safety challenges of our time. Our work is informed by rigorous research and stakeholder collaboration, and we design policies that can support our community at scale. We team with our cross-functional partners to create accessible policy enforcement guides and to continuously maintain and improve our policies.
The Difference You Will Make:
As Community Policy Sr Manager in the area of Safety on the Community Policy & Global Partnerships team, your work will help keep the Airbnb community safe through building and implementing internal policies and working with our agents to enforce them. You will work across the business and with external stakeholders to continuously evaluate and improve our policies and to handle new issues as they arise. Your work will address areas such as women's safety, physical safety, harm prevention and global risk assessment. This role will have a direct impact on the peace of mind of millions of Airbnb customers around the world. By facilitating improvements to guest and host policies across Airbnb, folks in this role can directly influence the experience all users have on our platform, potentially alleviating friction and fostering peace of mind for millions of Airbnb customers around the world.
A Typical Day: 
Solve some of the most complex issues and challenges related to policies that govern and guide mutli-dimensional platforms across global communities.
Work as part of a global team to research and draft data-driven policies focused on the area of Safety, as scoped and prioritized with the team.
Foster, build, and maintain relationships with leadership of internal business verticals, including executive level stakeholders 
Collaborate with cross-functional stakeholders across the business including but not limited to Operations, Public Policy, Legal, Product, Communications and Business Development.
Serve as subject matter expert to provide sound policy guidance for time-sensitive escalations, including from Operations and company leadership.
Guide policy operationalization efforts in partnership with cross-functional stakeholders throughout the business.
Gather data and insight to inform Community Policy project prioritization.
Your Expertise:
12+ years experience in an Operations, Policy, Legal, or Trust and Safety role with exposure to safety issues and working closely with global, cross-functional partner teams.
A track record of strong leadership 
Demonstrated capacity for critical thinking, research, and analysis; strong attention to detail
Exceptional writing and editing abilities
Thoughtful business judgment, strategic thinking, and ability to work well under pressure
Experience working in a matrix and driving solutions to complex problems through cross-functional collaboration
Fluency in data analysis and leading data-driven decision-making 
Ability to explain and simplify complex information to others
Effective time management with the ability to prioritize and a bias towards action and execution.
Experience working closely with operations teams, preferably in the Trust and Safety space.
SQL and other skills for research using data sets
About You:
You are a seasoned Safety Policy leader, with experience working on policies related to preventing real-world harm, women's safety, and public safety
You are an experienced communicator, with exceptional writing skills 
You are an adept presenter, with experience engaging with all levels of leadership, including senior executive audiences and C-Suite.
You love solving complex problems by developing consistent rules that can be applied at scale.
You bring a rigorous approach to research and analysis and can clearly propose policy options and their implications.
You are a team player who thrives in a fast-moving environment and brings a strategic mindset and bias toward execution.
You are principled, precise and have meticulous attention to detail.
Your Location:
This position is US - Remote Eligible. The role may include occasional work at an Airbnb office or attendance at offsites, as agreed to with your manager. While the position is Remote Eligible, you must live in a state where Airbnb, Inc. has a registered entity. Click here for the up-to-date list of excluded states. This list is continuously evolving, so please check back with us if the state you live in is on the exclusion list. If your position is employed by another Airbnb entity, your recruiter will inform you what states you are eligible to work from.
Our Commitment To Inclusion & Belonging:
Airbnb is committed to working with the broadest talent pool possible. We believe diverse ideas foster innovation and engagement, and allow us to attract creatively-led people, and to develop the best products, services and solutions. All qualified individuals are encouraged to apply.
We strive to also provide a disability inclusive application and interview process. If you are a candidate with a disability and require reasonable accommodation in order to submit an application, please contact us at: reasonableaccommodations@airbnb.com. Please include your full name, the role you're applying for and the accommodation necessary to assist you with the recruiting process. 
We ask that you only reach out to us if you are a candidate whose disability prevents you from being able to complete our online application.
How We'll Take Care of You:
Our job titles may span more than one career level. The actual base pay is dependent upon many factors, such as: training, transferable skills, work experience, business needs and market demands. The base pay range is subject to change and may be modified in the future. This role may also be eligible for bonus, equity, benefits, and Employee Travel Credits.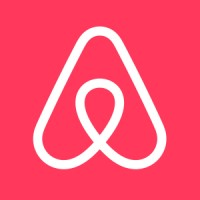 Airbnb is a community based on connection and belonging.